Progress Report Second Quarter 2021
Sea and Shoreline work crews moved rapidly to clean as much river bottom as possible in the area adjacent to the park as the second quarter of 2021 came to a close and before the madness of scallop season descended upon us. We were able to complete Areas C & D before the July 4th holiday. Unfortunately the part of Area E (where many of the boats anchor) is still being cleaned but we should be able to move within the safer confines of Mitten Cove within Area E by the end of next week. That area is very thick with muck and detrital material and it is expected that our square footage per day completion totals will drop accordingly.
As the busy scallop season begins our intent is to focus on the Blue Water Loop Canal (Area F) during most of July. Less boat traffic in the canal makes it easer and safer for divers to work underwater. Plans to deploy a second barge and crew were delayed but should be in place soon.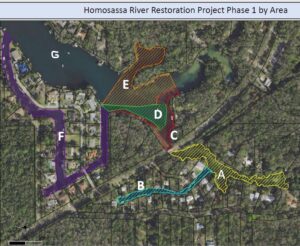 Turbidity curtains will often be in place while divers are working. It is possible to navigate your vessel over a turbidity curtain. Simply have the boat in forward motion and as you approach the curtain place in neutral and trim up your motor to clear the curtain. Kayaks and canoes can also pass over the curtains fairly easily.
!!! PLEASE LOOK OUT FOR DIVERS. IF YOU ARE UNSURE ASK THE SPOTTER ON THE BARGE BEFORE ENTERING THE AREA !!!
Worksite
Currently there are two Geo Tube filter bags in place and operational and a third will be added this week. The worksite, across Halls River Road form the entrance to Publix, will be in use though the Phase One permitted area.
Permitting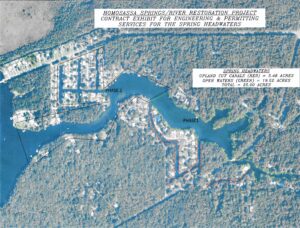 Permitting for Phase Two is well underway and we expect to have permits from both Army Corp and Department of Environmental in our possession very soon. This second round of permits will allow Homosassa River Restoration Project Inc.  to clean and restore up to the confluence of the Homosassa and Halls Rivers.
Thousands of Grasses
Approximately 14,000 grass units have been installed in Sections "A" and "B".  Some areas that experience a lot of foot traffic are not doing well and are void of any grass. Those areas that people tend to stand on less frequently have had exponential growth and are doing even better than we expected.  HRRP has suggested that our contractor wait until August to plant on the west side of Fishbowl Drive. At least where all the boats tend to congregate. Downside to that is we miss some great growing season time which is important to well established grasses before hungry manatees begin to show up in the cooler months. Final decision will be left up to the experts at Sea and Shoreline.
You can help!